home makeovers
You want to renovate your exterior but, you don't know where to start? You have some ideas but, don't know who to call? You're serious about moving forward but, can't find the right company to handle the mix of finishes and the design details your looking for? If any of these sound familiar, then you have come to the right place! We can come meet you at your home or property, hear your ideas and work with you to build an estimate that includes your unique ideas.
Calgary Stucco can design and install your stucco, stone, siding, soffit, fascia eaves and downs, painting, trim work and even your framing and electrical. Our project manager also does artistic renderings of the front of your house or building, therefore you can see what it looks like before anyone swings a hammer.
We want to make sure you feel confident in the skilled management and in house tradesmen that work on your project.
Call our references and hear for yourself. The same professional crew positively referenced, will work on your house.
Let us visit with you, person to person so you can see the Calgary Stucco and Stone difference.
Artistic Rendering and Design
For a fraction of the price of the large firms, let us build a rendering for you as part of your renovation ackage.
You don't have to blow your budget to see what your project will look like after its complete.
Let us show you how your building can look before we get started and build an estimate to suit the ideas and look you want. Without spending thousands of dollars on unnecessary engineering and architectural costs.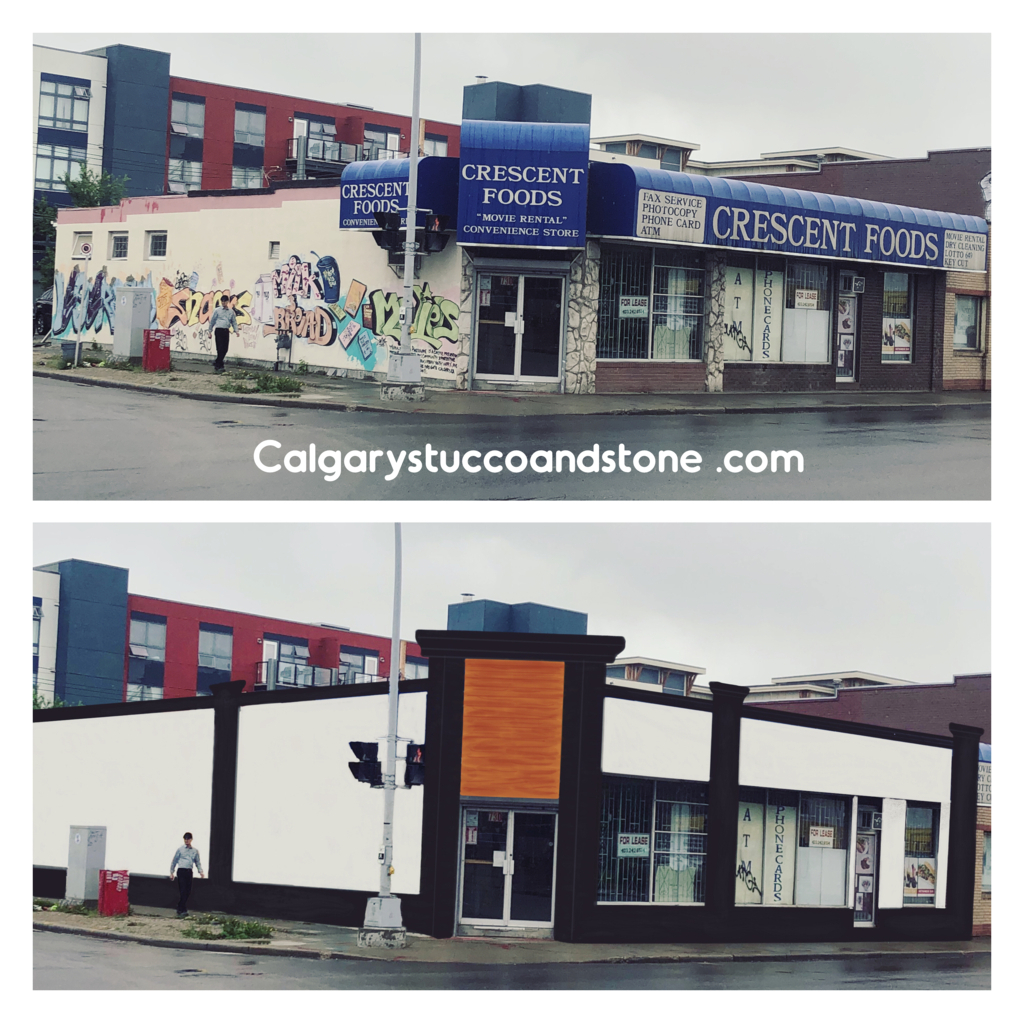 Diverse but specialized
You don't have have a large project to get our attention. We will always do our best to provide advice and consultation to anyone who needs it. Thats how we built our great reputation at Calgary Stucco.
We plan to keep it that way.
Additional Services:
EIFS

acrylic stucco

parging

scratch and double

siding

dry stack natural stone

commercial sign removal and stucco repair

cultured stone

affordable stone alternatives

stucco and stone repairs

artistic texturing (old school stucco)

soffit and fascia

cedar trims and soffits

metal capping, cladding and flashings

lux siding

metal panel systems

artistic renderings (commercial and residential)

insurance claims

decking fences and railings

hail damage

wood pecker damage

envelope issues (leaking walls and windows)

stucco painting

out of town and out of province projects

hotels and casinos

night shift work

interior feature walls and fire places

and much much more, just ask us !